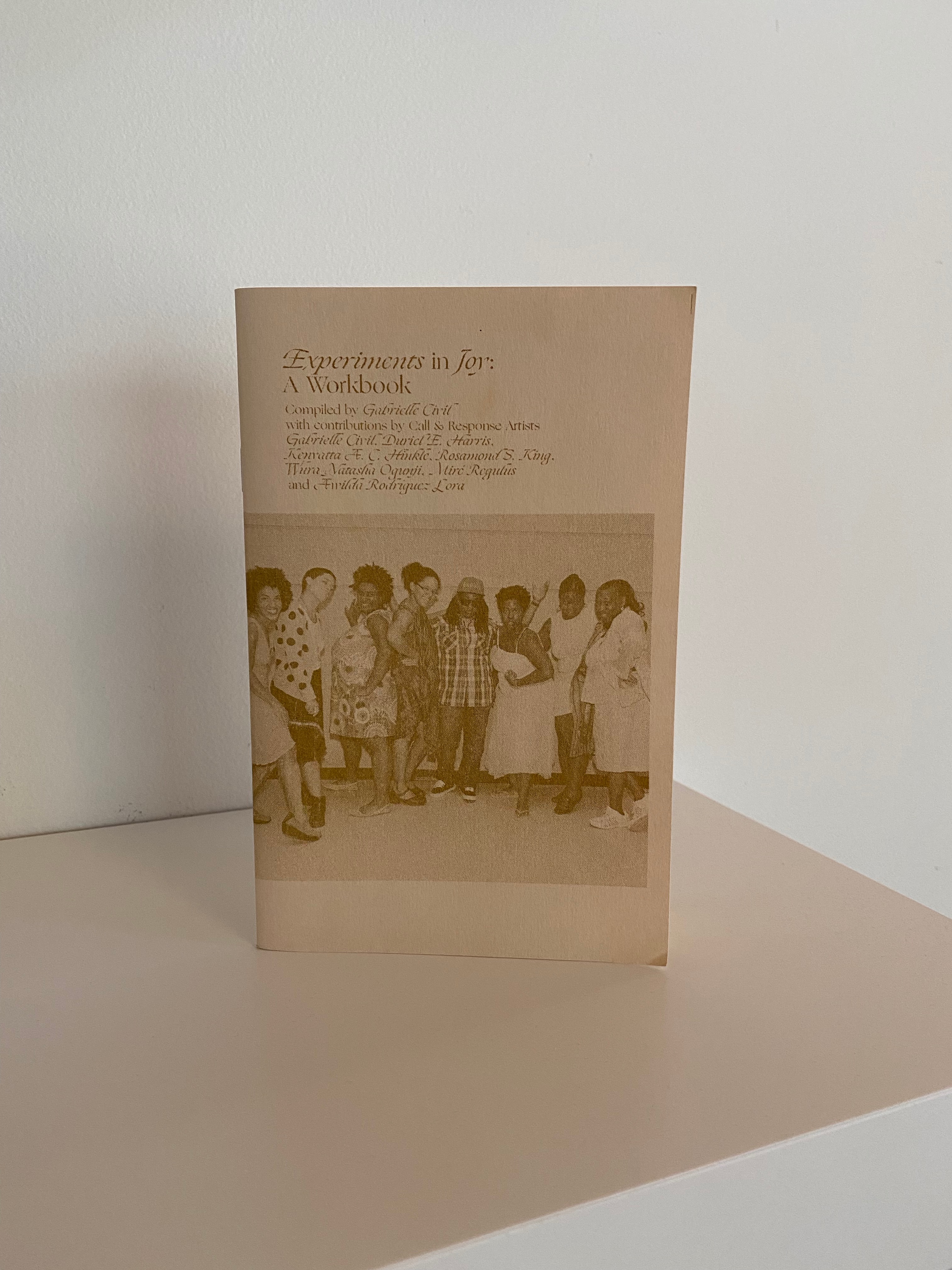 EXPERIMENTS IN JOY: A WORKBOOK

Created by Black women artists, this dynamic workbook can help you shift joy from a feeling to a practice. Engage its prompts, reflections, and resources for personal and creative transformation!
Compiled by Gabrielle Civil with contributions by Call & Response Artists Gabrielle Civil, Duriel E. Harris, Kenyatta A. C. Hinkle, Rosamond S. King, Wura-Natasha Ogunji, Miré Regulus and Awilda Rodríguez Lora.
Size: 5" x 7.5", 64 pages
Self published by Co—Conspirator Press with the support of Feminist Center for Creative Work.
Designed by MJ Balvanera, Riso-printed by Neko Natalia.
GABRIELLE CIVIL

Gabrielle Civil (she/her) is a black feminist performance artist, poet, and writer, originally from Detroit MI. She has premiered fifty original performance artworks around the world including in Puerto Rico, The Gambia, Ghana, Canada, Zimbabwe, and Mexico where she lived as a Fulbright Fellow. Her performance memoirs include Swallow the Fish (2017), Experiments in Joy (2019), (ghost gestures) (2021) and the déjà vu (2022). She was lead contributor to Experiments in Joy: a Workbook (2019), and her writing has also appeared in Dancing While Black, Teaching Black, Kitchen Table Translation, Migrating Pedagogies, and New Daughters of Africa. A 2019 Rema Hort Mann LA Emerging Artist, she teaches at the California Institute of the Arts. The aim of her work is to open up space.

Join Gabrielle's mailing list or get in touch with her at experimentsinjoy@gmail.com.
---
About

Co—Conspirator Press is a publishing platform for artists, writers, designers, printers, social justice workers, and editors from historically underrepresented communities who use their voice to address intersectional feminist issues and challenge cis-hetero-patriarchy, white-supremacy, and exclusionary, colonial, capitalist, and ableist systems.