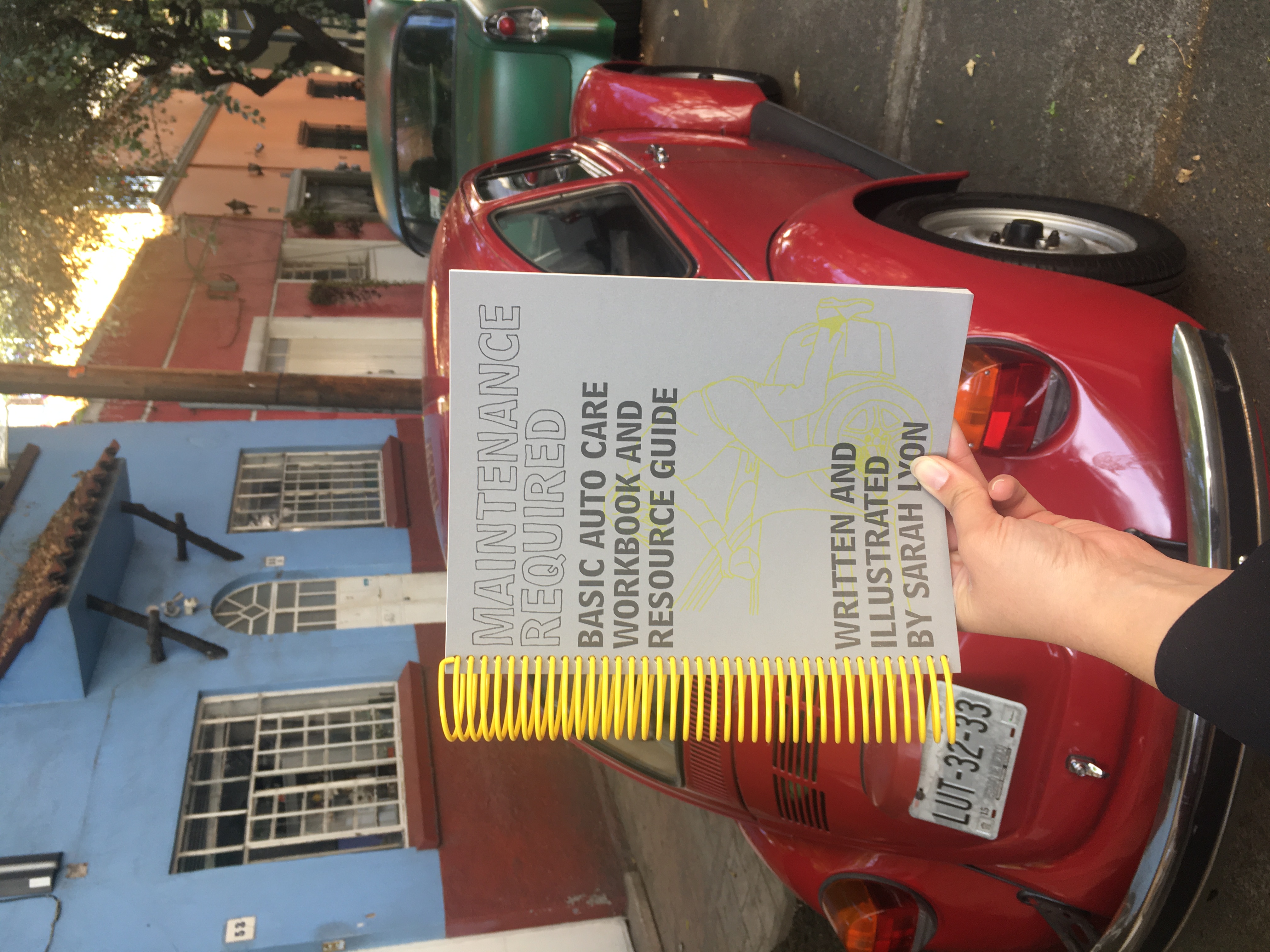 MAINTENANCE REQUIRED: BASIC AUTO CARE WORKBOOK AND RESOURCE GUIDE

An empowering glovebox companion, this illustrated guide covers the basics of what you need to know about maintaining your car. Like the
Basic Auto Care Clinic
(the workshop offered at the Feminist Center for Creative Work),
Maintenance Required
encourages personal resourcefulness and inspires confidence to handle the inevitable issues that present themselves to everyone who travels by automobile. Written and Illustrated by Sarah Lyon.
Size: 7.5" x 9.5", 64 pages spiral bound.
Self published by Co—Conspirator Press with the support of Feminist Center for Creative Work. Designed by MJ Balvanera, Riso-printed by Neko Natalia and MJ Balvanera.
PDF DOWNLOAD
SARAH LYON
(she/her) Since 2016 Sarah has taught her Basic Auto Care Clinic at The Feminist Center for Creative Work, Paramount Studios, Ebell of Los Angeles, Pieter Performance Space, Cal Poly Pomona, A-Z West, and as individual lessons. The topics covered in Maintenance Required were pulled directly from the Basic Auto Care Clinic program and inspired by questions and other issues that came up during the workshops.

Sarah is based in Joshua Tree, CA and Louisville, KT.

Y

ou can email Sarah directly at

studio@sarahlyon.com
---
About

Co—Conspirator Press is a publishing platform for artists, writers, designers, printers, social justice workers, and editors from historically underrepresented communities who use their voice to address intersectional feminist issues and challenge cis-hetero-patriarchy, white-supremacy, and exclusionary, colonial, capitalist, and ableist systems.