TENDERNESS: A BLACK QUEER MEDITATION ON SOFTNESS AND RAGE (SECOND EDITION)




*Please give your order up to one week to ship

Tenderness is back with a second edition and new title, Tenderness: A Black Queer Meditation on Softness and Rage. This second edition has all the original content from the first edition with more to explore, including a new preface from author Annika Hansteen-Izora.

What would it mean if tenderness could hold a simultaneous existence of joy and rage? How to call on tenderness as a practice of love, rather than a regurgitation of white supremacy? Author and writer Annika Hansteen-Izora explores answers in Tenderness: A Black Queer Meditation on Softness and Rage. A meditation, critical inquiry, and invitation to expand our imaginations on meanings of tenderness, this piece calls into question conceptions of tenderness that are rooted in desirability, anti-Blackness and white supremacy, and instead unfolds the potentials of tenderness as a tool, a balm, a healing agent, and a question to lean into.

Size: 5" x 7.5", 72 pages, spiral bound. Edition of 750.

Self published by Co—Conspirator Press with the support of Feminist Center for Creative Work. Written by Annika Hansteen-Izora. Copy Edited by Aliyah Blackmore. Designed and Illustrated by MJ Balvanera. Risograph printed by Neko Natalia. Bound by South Gate Bindery.


PDF DOWNLOAD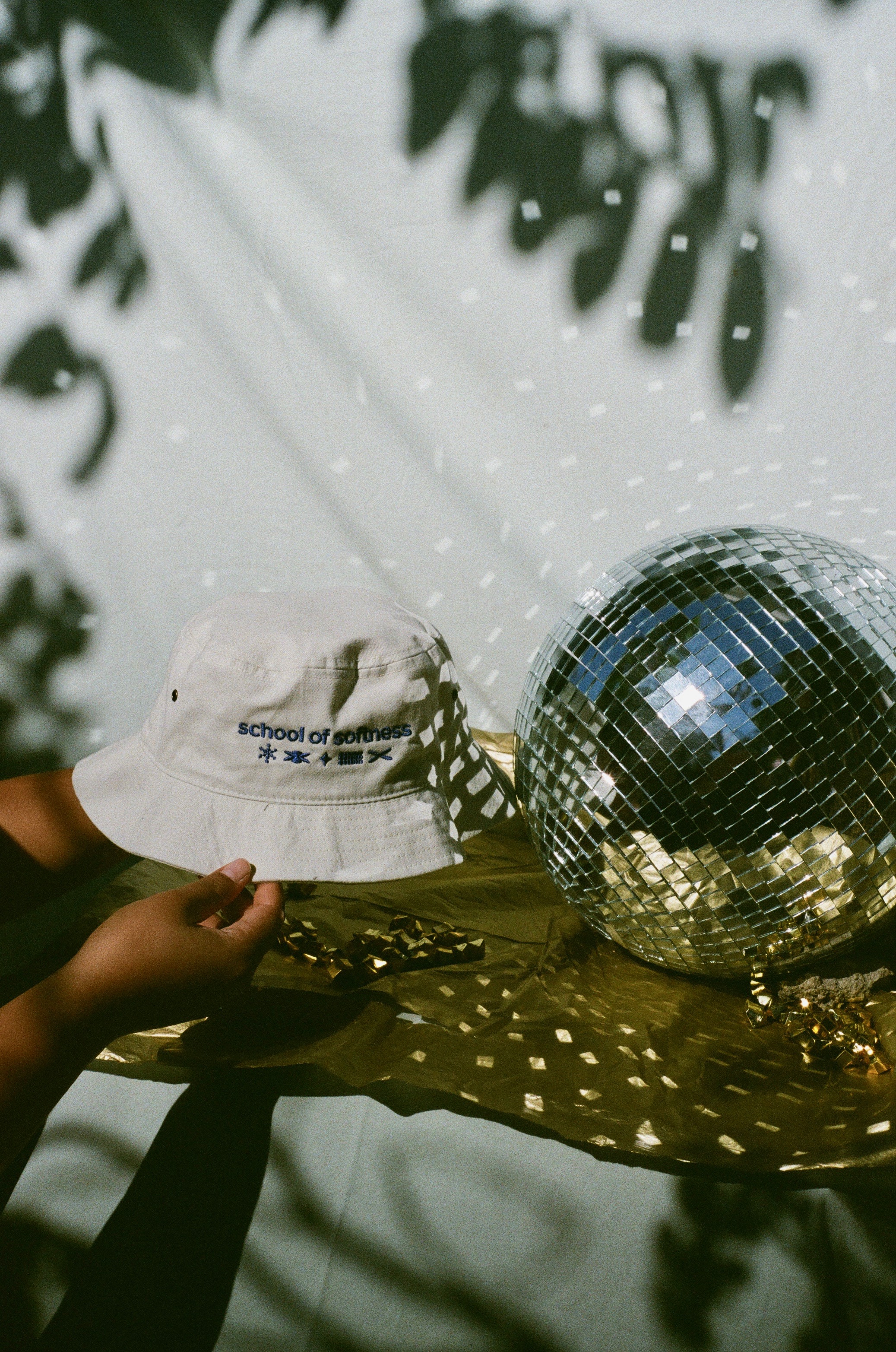 SCHOOL OF SOFTNESS BUCKET HAT
These stylish bucket hats are not only a favorite accessory of Annika's, but they feature an image designed by the author themself, and a phrase inspired by the themes in the book. Don't deny yourself, everyone looks great in a bucket hat.
This durable bucket hat is made of 100% heavyweight brushed cotton twill. It is in the color stone and features blue embroidered text that reads "school of softness" with symbols underneath.
One size fits most.
Edition of 200.
ANNIKA HANSTEEN-IZORA
(they/she/he) is a writer, poet, and multi-disciplinary artist from East Palo Alto, California. They use the elasticity of language and design to explore love as an action, queered intimacy, and frameworks of care rooted in Black futurity. Their work has been shared by McNay Art Museum, Bustle, It's Nice That, The Creative Independent, and others.
---
About

Co—Conspirator Press is a publishing platform for artists, writers, designers, printers, social justice workers, and editors from historically underrepresented communities who use their voice to address intersectional feminist issues and challenge cis-hetero-patriarchy, white-supremacy, and exclusionary, colonial, capitalist, and ableist systems.